Welcome!  Temple House of Israel is a Reform Jewish congregation in Staunton Virginia with members from Staunton and surrounding towns and counties.  We also welcome students from the several college campuses in our area.
Learn about us, read about our history and what's new in our bulletin, see our calendar, meet Rabbi Joe Blair, find interesting links, get directions, or learn how to contact us.
For information on events and the timing of Shabbat or Holiday services, please visit the calendar (linked in the bar above).
We look forward to meeting and greeting you when you come to our community!

Rabbi-led Shabbat Services – Friday August 28 @ 7:30 PM
Annual Temple Picnic – Sunday, August 30 @ 5:00 PM
High Holiday Schedule
The holidays are just around the corner.  Here are the dates for your planning purposes:
Sept 13 (Sunday) 8:00 PM  Erev Rosh Hashana with Rabbi Sue
Sept 14 (Monday) 10:00 AM Rosh Hashana with Rabbi Joe – Tashlich service to follow
Sept 20 (Sunday) 3:00 PM Yizkor service at the cemetery with Rabbi Joe
Sept 22 (Tuesday) 8:00 PM Kol Nidre service with Rabbi Joe
Sept 23 (Wednesday) Yom Kippur Schedule:
9:00 – 10:00 AM – OPTIONAL study/prayer program with Rabbi Sue
10:00 AM – 12:00 PM Yom Kippur with Rabbi Sue
3:00 – 4::00 PM – OPTIONAL study opportunity with Rabbi Sue
4:00 – 6:30 PM Yom Kippur with Rabbi Sue
A break-the-fast meal will follow the final Yom Kippur service
If you are not a member of the Temple, a $100 donation to the Temple is requested to attend our services to help defray our costs.
SHOP 'TIL YOU DROP!!!
Did you know that you can shop on Amazon and help THOI at the same time? It's as simple as a click of your mouse! When you access Amazon via this link, THOI receives a commission for every purchase made.  Your shopping experience, including price, is not affected in any way. So, start shopping (and helping THOI!) by clicking here.
Women's Group 2015-16 Ongoing Fundraiser
We have started a FUN fundraiser for this coming year –  for a $25 fee, 6 adult and 6 baby bright pink plastic flamingos can be ordered to be stealthfully placed in the yard of  local friend, relative, neighbor, etc.  along with your message telling them why they have been "flocked" (e.g. happy birthday or anniversary, to say thank you or Mazel Tov or just on account of because!!) These adorable flamingoes will visit for 24 hours and then be picked up by someone from the stealth flamingo flocking team. Questions or to order a flocking, please contact: Debbie Jacobs at: deb1130@hotmail.com or Beth Young at: bydesign1993@gmail.com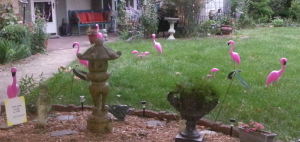 ---
---
The following articles were written by our own Dr. Ruth Chodrow and published in the Augusta County Historical Society Bulletin.  For more information about the Society, please visit www.augustacountyhs.org

Joe Blair
Shalom.
I am linking to a blog post I authored which appears on the Ritualwell blog.
I hope you […]
Joe Blair
Looking at the Three Weeks and Tisha Be'Av
Click here to open the Column
Rabbi Joe
Joe Blair
Hope all had a happy Fourth of July holiday.
This is the next in the series of articles […]
Find us in downtown Staunton